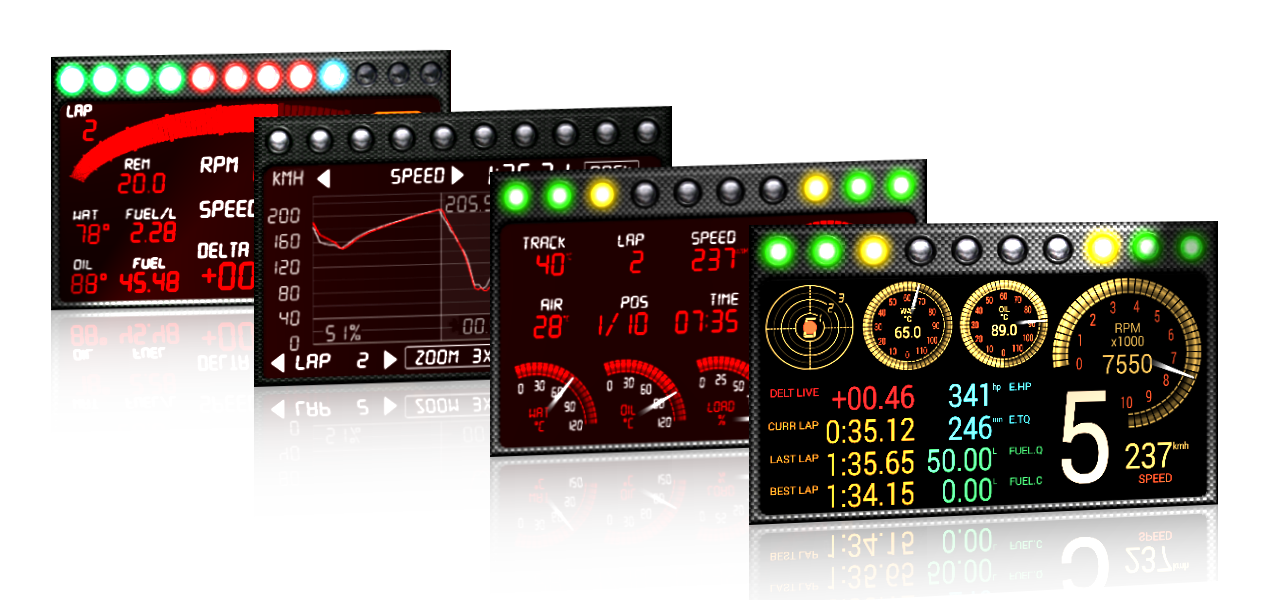 DashMeterPro Apps
DashMeterPro turns your Android device into a highly customisable racing digital dash, which communicates with your favorite PC simulation through WiFi or USB. It has been designed to reduce the latency to near real-time and to suit all resolutions on phones and tablets. DashMeterPro has been constantly updated and improved since its release in 2012 and is now used by some professional simulators.
Five versions have been developed for different simulators in order to adapt better to the type of data available and their behaviors. You can find the full description for each version by clicking on the links below:
compatible with Assetto Corsa™ and Project Cars™.
compatible with iRacing™.
compatible with rFactor 2™, rFactor 1™, Game Stock car™ and Arca Sim Racing™.
compatible with RaceRoom Racing Experience™, GTR2™, Race07™, RaceRoom The Game 2™, GTR Evolution™.
compatible with RBR™ and some 
Codemasters
™
 games (Dirt rally, Grid).
Moving Watch Studio
The only designer that can create fully animated WatchFaces for Android Wear.
DISCLAIMER:
DashMeterPro is NOT an official software of Image Space Incorporated™, iRacing™, Simbin™, Codemasters™, Slightly Mad Studios™ or Kunos Simulazioni™. The names pCars, Project Cars, Assetto Corsa, AC, iRacing, rFactor, rFactor 2, Game Stock car, Arca Sim Racing, RaceRoom Racing Experience, GTR2, Race07, RaceRoom The Game 2, GTR Evolution, Dirt Rally, Grid, RBR are used for identification purposes only. All trademarks and registered trademarks are the property of their respective owners.